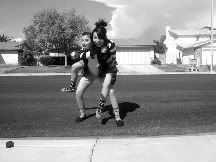 My names Rhiannon. I don't really know what to say about myself, so I'm going to let my posts speak for me. Diggg itttttt.
http://twitter.com/RhiLooksFw3shh
"In astrology, Saturn is associated with restriction and limitation. Where Jupiter expands, Saturn constricts. Although the themes of Saturn seem depressing, Saturn brings structure and meaning to our world. Saturn knows the limits of time and matter. Saturn reminds us of our boundaries, our responsibilities, and our commitments. It brings definition to our lives. Saturn makes us aware of the need for self-control and of boundaries and our limits."

and because Saturn has been my favorite planet since I was 5.
My tattoo done by Steve Bauer of Premier Tattoo in CO. These are lyrics from a La Dispute song, and these words hold incredibly strong personal meaning to me.
Never Alone, 

Done by Warren at blank generation Victoria BC.

My sister is moving away to go to school for a few months, I can't even fathom my life without her. So before she left we have matching tattoos. I love it almost as much as I love her. 

My first tattoo, many more to come! 
Petrichor (n): The smell of earth after rain.
heartache to heartache?
(Source: weheartit.com)
(Source: snowlilies, via queenofindia)
this is so precious.
(via plugsanddrugs-)